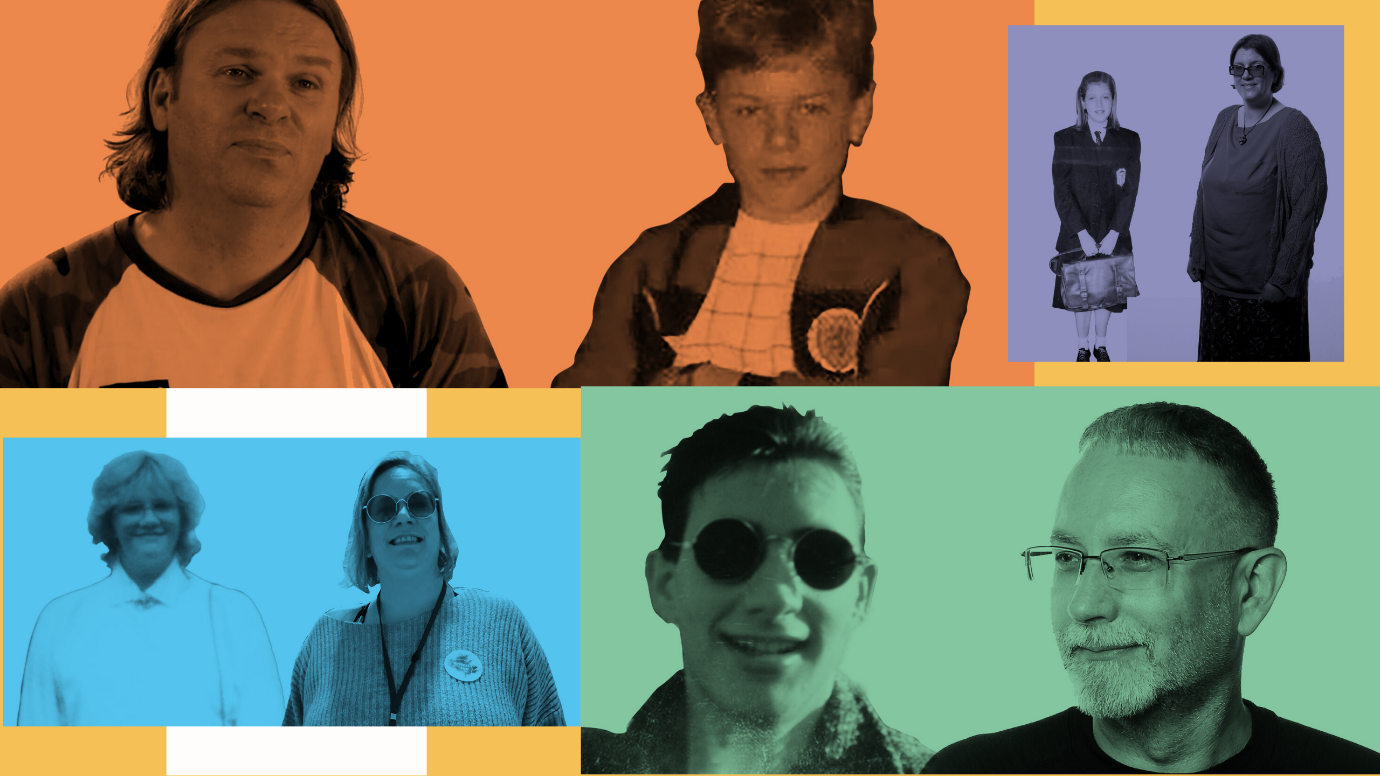 My Younger Self
We asked twelve dyslexic adults what advice they would give their younger selves, if they could go back in time and meet them.
With the gift of hindsight, most of these adults had the same strong message about keeping going, staying determined, being kind on yourself, making dyslexia work for you and, importantly, being true to yourself; with a few practical tips thrown in too.
Charneh
, a drama facilitator and support worker would encourage her younger self to try the things she wanted to do.
"I think if I was gonna give a piece to my younger self, it would be not to be defeated so easily… I could have done those things if I was just giving myself a chance."
Colin
, a property business owner offers himself some similar wisdom.
"The advice I give to my younger self would be don't give up and get frustrated…ultimately keep using dyslexia as your determination to work hard."
Trainee teacher
Emily
agrees.
"Never give up." she says, "Always keep going. If something is hard keep going, push through. Don't give up at the first hurdle. Then you're never gonna get anywhere in life. You just need to keep pushing. So that's what I would say to my younger self. Don't give up, don't panic. Keep yourself going and keep confident and keep being yourself."
And blogger
Suzy
feels the same. "The advice I'd give to myself to my younger self is never give up and never surrender. I mean I knew that this dyslexia has its frustrations. Other people see it as stupidity, quite a lot of the time. It's not, if you've got great support from friends and family. People who know that you can ask them for a bit of help. It's just getting the process right and not feeling that you can't do it, you can you just need to take a bit more time about it. Which is frustrating, but it's also very rewarding."
Police Officer
Gavin
would tell his young self to believe in himself more.
"Follow your dreams, go with your gut instinct surround yourself with people that are going to support you and believe in you and try and stay away from the people are negative and telling you that you can't do that or you can't succeed or you're not brave enough you're not clever enough you follow your dream and tap into the experience."
Ian
the vet would assure himself that there are others like him.
"The advice I would give to my younger self is, well, you're not alone."
And Animator
Indie
encourages herself to "believe in myself more and not be too timid about starting stuff and not be scared."
Jamie
wishes now he'd had a bit of self-understanding.
"The advice I would give to my younger self would be to not be so hard on myself. To understand and I wish at the time I knew what it means to be dyslexic."
And Artist
Lucy
echoes his thoughts.
"The advice I'd give to my younger self probably would be the same now. It would be not to be so hard on yourself. I think but that's easier said than done."
Trevor
the film-maker would cajole himself in to speaking up more.
"Speak to your family and your teachers and try and articulate and tell them the problems that you are having with your education. I would try and say to myself to talk to other people and not to give myself such a hard time."
And author Iain would meet with different versions of his younger self and share some very practical ideas about dyslexia and life in general:
"When I was 10 and struggling to spell, I'd explain that dyslexia has strengths as well. To the 13 year old me failing at school, I'd assure him dyslexia was a creative tool. When I was 16 and studying for exams I'd show myself mind maps like neurons with ganglion arms. When I was 19 and trying to find employment, I tell myself do a job that brings you enjoyment. When I was 21 I'd say, 'you're fitter than you think. Keep up the exercise and try to stay off the drink.' "
The grown-up Doreen would tell her younger self "Don't blame everything on dyslexia. Drill down into feelings, thought process and social difficulties. Use audio books and podcasts when they come along to find out about mental health and other neurodiversity. Investigate coloured glasses again. Give other adults' advice as much weight as mum and dad's. Sometimes family members can be too close to things."
To all the dyslexic grown ups: What advice would you give your younger self? And what advice do you think future you is looking back and trying to tell you now?

To all the young people: What advice speaks to you most? What will you do with it?
Blog written by Katie Carmichael, Career Coach