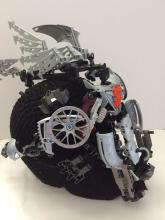 Charlie - Bionicle master builder
Bionicle boy!
Charlie has been building his own Bionicle designs/creations for the last few years. It helps him to relax when he gets home from a mentally exhausting day at school!
Charlie loves building his own custom Bionicles because he challenges himself to design and construct individual creations on different themes. Charlie says that it gives him 'a real sense of achievement' and helps him to 'relax and focus at the same time'.
Check out some of his amazing creations below – especially the mask. It was originally made for Hallowe'en guising and proved quite scary!